Celia Coffa
ICT Leader/Coach
St Luke's Primary School (VIC)
Celia is an experienced educator, eLearning Coach and Google Certified Innovator. In 2015 Celia was awarded the 2015 DLTV Educator of the Year Award for her dedication, advocacy and innovation in digital learning and teaching across her school and beyond. Celia is a passionate advocate for the Teachmeet movement, being an integral part of the team behind the initiation and continued growth of Teachmeets across Melbourne. Celia has benefited from creating a wide professional learning network, both in face to face opportunities and on-line through blogging, Twitter and Google+ and is keen to share the value of becoming a connected educator.
---
Roland Gesthuizen
STEM and eLearning Leader
Mater Christi College (VIC)
Roland has an active interest in the development of online learning communities, open education and software freedom. He is a social-media evangelist who enjoys teaching information technology and science at a DEECD school in Melbourne, Australia. As a GLOBE trained teacher his work spans a range of environmental issues using blended learning to bridge Science, Technology, Engineering, Arts and Maths. Over the past two decades he has presented and published at ISTE, ACEC, VITTA and ICTEV conferences and groups. He is a recipient of the 2010 ACCE Educator of the year Award and 2012 ISTE Making IT Happen Award.
---
Michael Ha
E-learning Leader
Newington College (NSW)
Michael is the eLearning Leader at Newington College, a leading Independent School in Sydney, Australia. His current role includes being a committee member of AISNSW Digital Technologies & STEM Symposium, a Google for Education Certified Innovator & Trainer, a Microsoft Innovative Educator Expert & Trainer, an Adobe Campus Leader, and the founder of ëTeach Tech Playí web-show & conference. Previously, Michael was on the Committee of Management of Digital Learning & Teaching Victoria, and he founded EdCamp Melbourne, a free un-conference devoted to advancing best practices in K-12 education and professional development. Michael has a passion in understanding and implementing essential educational technology strategies that teachers and students require in the twenty-first century to enhance learning outcomes. He actively promotes shifting the focus from valuing right answers as the purpose for learning to knowing how to behave when we donít know answers; to encourage curiosity, questioning, problem solving, and wonderment.
---
Anne Knock
Director
SCIL (Sydney Centre for Innovation in Learning) (NSW)
Anne commenced her career in education as a primary school teacher in the 1980s and is passionate about young people and learning. She has held leadership roles in the not-for-profit sector, working for community, educational, national and international organisations. At Northern Beaches Christian School Anne is the Director of SCIL (Sydney Centre for Innovation in Learning). The team at SCIL seeks to 'Lead the Change', inspiring educators and leaders from across Australia and around the world to rethink learning and leadership. In addition to this, Anne also serves on a couple of boards including Council of Educational Facility Planners (CEFPI) and Halogen Foundation.
---
Jenny Luca
Head of Digital Learning and Practice
Wesley College (VIC)
Jenny Luca is Head of Digital Learning and Practice at Wesley College in Melbourne. She has been a teacher for 28 years with experience across education sectors and is fascinated by the potential that exists for leveraging new technologies for learning outcomes in education today. Jenny has been a Keynote speaker on numerous occasions and has facilitated many seminars and workshops across a range of topics. She has also been a TEDx Melbourne speaker. Jenny writes a blog called 'Lucacept- intercepting the Web http://jennyluca.com and is forever grateful that she took the plunge and pressed the publish button on that first post!
---
Dr Jason Zagami
Lecturer
School of Education and Professional Studies, Griffith University (QLD)
Jason has many years' experience in K-12 and tertiary education and has been the recipient of an Outstanding National Achievement by a Teacher and Queensland Computer Educator of the Year awards. He is currently the President of Australian Council for Computers in Education (ACCE). Jason conducts research in cognition, professional learning and expertise, and all aspects of educational technologies – with a current focus on games in education, augmented reality and virtual environments, neural interfaces, and computing as a school discipline. He is an Apple Distinguished Educator, Google Certified Teacher, past president of the Queensland Society for Information Technology in Education (QSITE) and editor of the Australian Educational Computing (AEC).
---
Dr Rebecca Vivian​
Research Fellow
University of Adelaide (SA)
Rebecca draws on her expertise in Education and Learning Sciences to undertake research across a range of disciplines, including Computer Science, Teacher Education and Higher Education, with a particular interest in K-12 Computer Science and innovation in technology-supported learning. Rebecca is course developer and lead researcher for the CSER MOOCs initiative that supports Australian teachers to implement the F-10 Digital Technologies Curriculum. As an advocate and emerging leader in K-12 Computer Science education, she has been an invited speaker to a number of teacher conferences across Australia, and has worked on a number of industry and Government projects. She is a Google Innovative Educator and recipient of a 2015 ACEL "New Voice" in Educational Leadership Research Award.
---
Cathie Howe
Manager, Macquarie ICT Innovation Centre,
NSW Department of Education & Macquarie University
Cathie has taught for over 20 years in NSW in both the public and private sector of education with learners of all abilities. She has been recognised for her work in digital learning and awarded for her innovative practice. Cathie leads the development and delivery of state-wide future focused professional learning services and student workshops that promote innovation and provide teachers and students with the skills, experiences and insights needed to engage with technology in ways that enhance teaching and learning. Cathie also pursues an innovative research agenda, collaborating with academic and industry partners.
---
Mary-Lou O'Brien
Chief Digital Officer,
Melbourne Girls Grammar
Mary-Lou has had a very varied background that includes being one of Australia's internet pioneers when she started Australia's first online retail business in 1998. She then moved into education after obtaining a Masters in eBusiness and Communication and a Diploma in Vocational Education and Training. Mary-Lou has worked at Swinburne University as an eLearning Leader for the School of Business, a Course Convenor and lecturer of eMarketing, eCommerce, Change Management and eBusiness Systems. She moved to Melbourne Girls Grammar in 2009 to take up the role of Director of eLearning and since then, she and her team, have successfully transformed learning at MGGS by introducing online environments that extend the student's capacity to learn independently and collaboratively.
To complete the digital transformation at Melbourne Girls Grammar she has recently accepted the role of Chief Digital Officer, and whilst it will encompass what was previously eLearning, she now oversees the complete digital ecosystem to ensure it meets the School's strategic intent and to fortify Melbourne Girls Grammar's place at the leading edge of education innovation. Mary-Lou's door is always open and as a mentor to many she regularly welcomes school staff from across Australia and internationally to visit Melbourne Girls Grammar so they can witness first-hand the changes the school has undergone in recent years.
---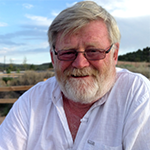 Martin Levins
President,
Australian Council for Computers in Education
As the President of the Australian Council for Computers in Education, Martin leads the national peak body for educators using technology in teaching and learning. He is the co-author of "BYO-the digital evolution of schooling" (with Mal Lee). As well, he is an occasional lecturer in the School of Education at the University of New England.

Martin is a national authority in the use of technology in education, and the deployment of hardware, software and wetware technology processes and systems in schools. He has always loved playing with tech, and finds play to be an essential ingredient of learning (that's his excuse!).

With a teaching career spanning Science, Maths, Design, Technology, IT and Outdoor Education, Martin assists in developing cutting edge curriculum and professional learning. He has extensive experience in strategic planning, management, and public speaking, and consults to systems, schools, districts and authorities nationally. Martin delivers professional keynotes and workshops to leaders, parents, staff and student organisations.

Don't miss the opportunity to learn from Martin's unique insights and high level experience and knowledge.